I remember when a new newspaper was starting in Estes Park in the year 2000. It had a reputation as being the "happy paper" because the publishers said they would only print positive news.
"Yeah, right," we thought, rolling our eyes a little. "Whoever heard of a newspaper without bad news?"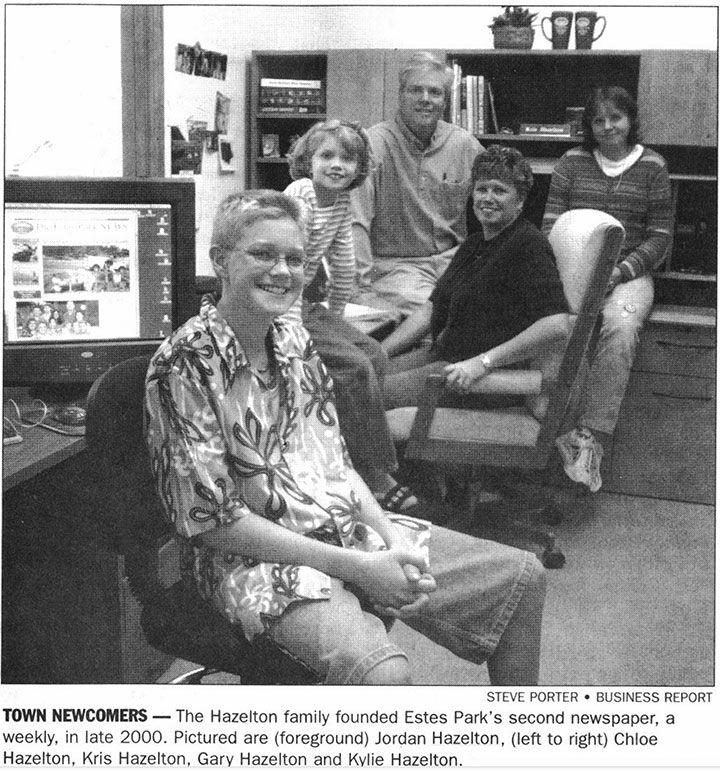 Now, 20 years later, the "happy paper" is not only surviving, but it is a thriving, award-winning newspaper, with up to 8,500 copies printed weekly for free distribution around town and more than 163,800 followers from across the globe on Facebook. It turns out, publishers Gary and Kris Hazelton knew what they were doing. People love to read all the good news they see in the Estes Park News!
Before they published the first issue of the weekly Estes Park News, the Hazeltons met with the hospital, school and town administrations to explain their publishing philosophy. "We told them, 'We are going to start a newspaper but we are only going to help you send out the positive word. We won't be looking for any dirt. We're just here to help bring positivity to the community. That's it,'" said Gary. "That position has served us and the community very well."
"That's why we don't put names in the police report," Kris added. "Everyone has a family, we don't want to drag everyone into it. It doesn't prove anything."
Gary agreed. "The only way you're going to change things is to have a positive attitude. It attracts people. Run around with a negative attitude and everyone's gonna want to run away."
Gary and Kris are true to their word. In the past I have written a column or two that didn't meet their standards. They gently told me they wouldn't run The Thunker that week. Gulp! (I appreciated their conviction.)
For the Hazeltons, community service and newspaper publishing go together like taking a daily walk around Lake Estes as a pair: they couldn't do one without the other.
"When we decided to start this paper we prayed that we would be given the opportunity to serve the community, " Gary explained. "That is our only goal. Every day." That outlook is what has made the Hazeltons' EP News a thriving publication during a time when electronic news is forcing papers to silence their presses.
Estes Park has a calendar that is cram packed with events throughout the year, and you'll see Gary and Kris at most of them, either emceeing, acting as competition judges, actively participating, or taking photos for their weekly paper and video footage for their website. In the past, the Estes Park Rotary Club and the Town of Estes Park named the Hazeltons, "Person of the Year" and the local American Legion named the Estes Park News, "Newspaper of the Year." This past June, the Town trustees issued a proclamation recognizing the service of the Hazeltons for their leadership in the community. Kris and Gary's enthusiasm for serving Estes is an inspiration for us all.
"But that's not why we're in business, to win awards," said Gary.
In a round-about way, the Hazeltons got to where they are today by way of a pumpkin festival in Sycamore, Illinois, a small town like Estes Park. Almost every year the Hazeltons won Sycamore's pumpkin decorating contest, including the carving of a 200-pound pumpkin that resulted in a lot of notoriety in the big city of Chicago. They were invited to carve pumpkins at a bankers' convention in the city so they donned their overalls and got paid "a good amount of money" to entertain convention-goers by carving pumpkins.
"There was a color pencil artist in the booth next to us who was doing fantastic work, " Gary told the story. Always an artist at heart, Gary had neglected his artistic muse to become a corporate person dealing with corporate issues. When he saw what the pencil artist had accomplished, something stirred deep in Gary's soul.
"I left Illinois saying 'I'm going to move to Colorado to be an artist,'" Gary proclaimed.
"And grow a beard," Kris added. ­­
The Hazeltons moved to Estes Park intending for Gary to be a wildlife artist. "I actually took my art to Rocky Mountain National Park, where I was declared the official artist of the park. But I never did a thing for them, because they never asked for it," Gary said. "I know what they mean by the term, 'starving artist.'"
A year later the couple started the Estes Park News.
"In the beginning it was really hard," Kris described their first years as newspaper publishers. "It was so much work, with just the two of us. We were working 80 hours a week, each of us, and we were trying to be parents too."
"We would catch sleep when we could, and the rest of the time was work," Gary added.
The Hazeltons' hard work has paid off. "We don't have to go out and sell ads. People beat a path to our door," Gary said.
"We have always had a positive outlook, no matter what happens in life," Gary said. "It was confirmed when our daughter was diagnosed with cancer at 18 months old. We realized that we would just have to get through on faith and whatever happened would be positive. It became a philosophy of our being," he said.
Gary and Kris believe their outlook has brought them success in everything they've done, including producing the Estes Park News. "If we get thrown something negative then we don't include it in the paper," Gary explained. "Kris says her editorial policy is, if it gives her a stomachache, then she doesn't put it in."
"Our future is to continue to own the best paper in the world," Gary said. The Town wouldn't be the nearly the happy place it is without the Hazeltons and the Estes Park News. Congratulations on your first 20 years, Gary, Kris and the Estes Park News!
You may let The Thunker know what you think at her e-mail address, donoholdt@gmail.com.
© 2020 Sarah Donohoe