Ask a kid what his favorite game is today and he'll say Pokémon (yellow version, of course), Call of Duty, Minecraft, Civilization, or something else that sounds more like a job than a game. But these are games and they play them while sitting in front of a computer screen.
That's what the younger generation does. Oh, they still get out on the field every once in awhile to competitively kick and throw a ball around. But they're just as likely to play the same ballgame online, which is what Madden, NBA 2k and FIFA 20 video games are. And when they're finished with their sport, they turn to something merry and playful like Dark Souls which, according to one of my nephews, "is an incredibly difficult game" with a "grind that makes you appreciate the wins so much more."
The old tried-and-true neighborhood games of yore (with no grind whatsoever) have long since disappeared.
That's what I thought anyway, until I learned that since we've all been stuck at home because of a worldwide pandemic, some of those games you and I grew up playing are making a comeback. The kids are getting outside where it's safer than being together in a room, they don't have to touch (or maybe touch with just a quick tag), and the retro games are designed by nature to include social distancing.
Ah, the good old games. Back when I was a kid, the younger tykes played Mother May I? Red Rover and Tag.
As we grew, we advanced to Capture the Flag, Hide 'n Seek and Kick the Can. There was one game—played in the street— that included all ages: Five-hundred. The smaller kids stood up near the batter so they could catch the ground balls (worth 25 points) while the older kids stood farthest away so they could catch the fly balls (worth 100 points). We got 50 points for a two-bouncer and 75 for a one-bounce catch. The first player to 500 points got to be the next batter.
"Caaaarrr!" someone would yell when a car was coming. We'd scatter to the curb, wait as the car drove by, then fill the street again to resume play.
We played before dinner until moms up and down the block stepped onto their porches and called their broods home.
"Ne-ed! Pa-at! Saaar-aaah!" my mom would yell through cupped hands held to each corner of her mouth. "Time to eee-eeet!"
We'd reluctantly gave up the game, ran inside to sit down, itchy and sticky with kid-sweat, to eat. We'd gobble dinner, then dash back outside to rejoin the other kids who lived on our street. That's when we played Ghost in the Graveyard or Hit the Dirt. We played until dark, or until the mosquito truck drove by, spraying a fog of tangy-smelling repellent across our yards.
During the day things were calmer. That's when I played with the other girls on the block. We climbed on the monkey bars or played dress-ups, or we jumped rope (remember the Double Under, Crossover, and Side Swing?). Jump Rope was especially fun when we got two longer ropes going at the same time, seeming to cross each other in high arcs above, and then again when they slapped against the pavement. We got good enough that we'd have two girls enter into the swinging ropes and jump simultaneously. Double Dutch.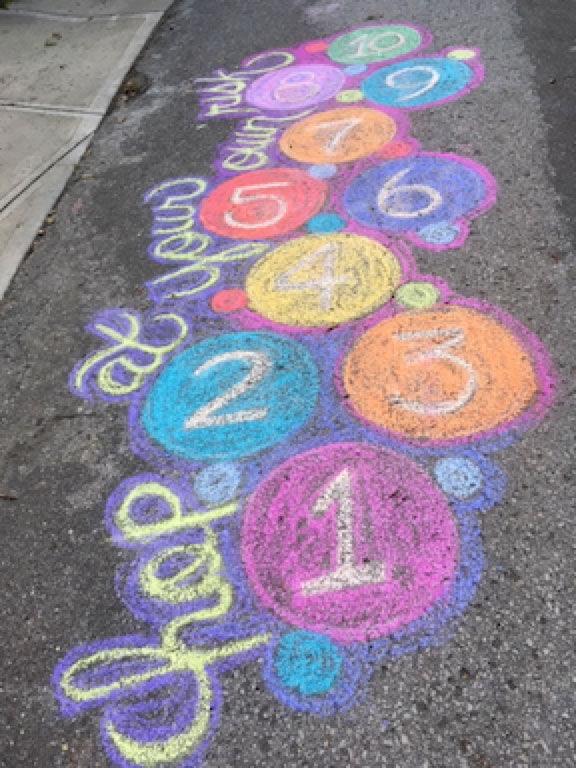 Some of the games we played required nothing more than a piece of chalk, or a chunk of drywall when chalk wasn't available. Hopscotch, Four Square (which also needed one of those pink rubber kickballs), and Hollywood Squares. (This is a game I've tried to find online so I can refresh my memory on how to draw the numbered grid. I've had no luck in my search. Was it a local game my Chicago cousins made up?) We played hand-clap games such as "A sailor went to sea, sea, sea to see what he could see, see see…" and "Oh little playmate, come out and play with me" or we'd wrap a loop of string around our fingers and, together with a friend, make string designs called Cat's Cradle.
I suppose our parents—who played with paper dolls and played games like jacks and marbles—would have found the games of my generation as unappealing as some of my generation find computer games. But if you'd asked yesterday's youth why they liked the games they played, their answer would be the same as the ones I'd give about jump rope and Kick the Can, which is the same answer my nephews give me about the video games they play today: The games of each generation give us a chance to connect with friends. Then we're all winners.
You may let The Thunker know what you think at her e-mail address, donoholdt@gmail.com.
© 2020 Sarah Donohoe