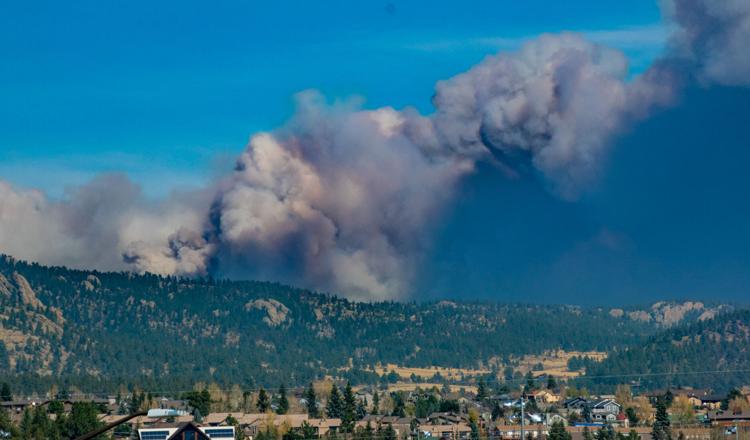 The following information is provided by the Rocky Mountain Type 1 Incident Management Team for Friday, Oct. 16, 2020
Air resources were used yesterday to check the spread of the fire to the east; and as winds allow, air resources will be used again today. Red Flag Warnings today through Saturday will present challenging days for firefighters as they prepare for the possibility of further fire advancement. Carefully planned suppression strategies will be implemented while giving priority to the safety of firefighters and the public.
Firefighters and engines are providing structure protection in areas such as The Retreat, Storm Mountain, and Cedar Park. Safety issues there include narrow roads with switchbacks where access with large engines is difficult. Fire managers are scouting farther to the south to identify additional contingency lines, should they be needed.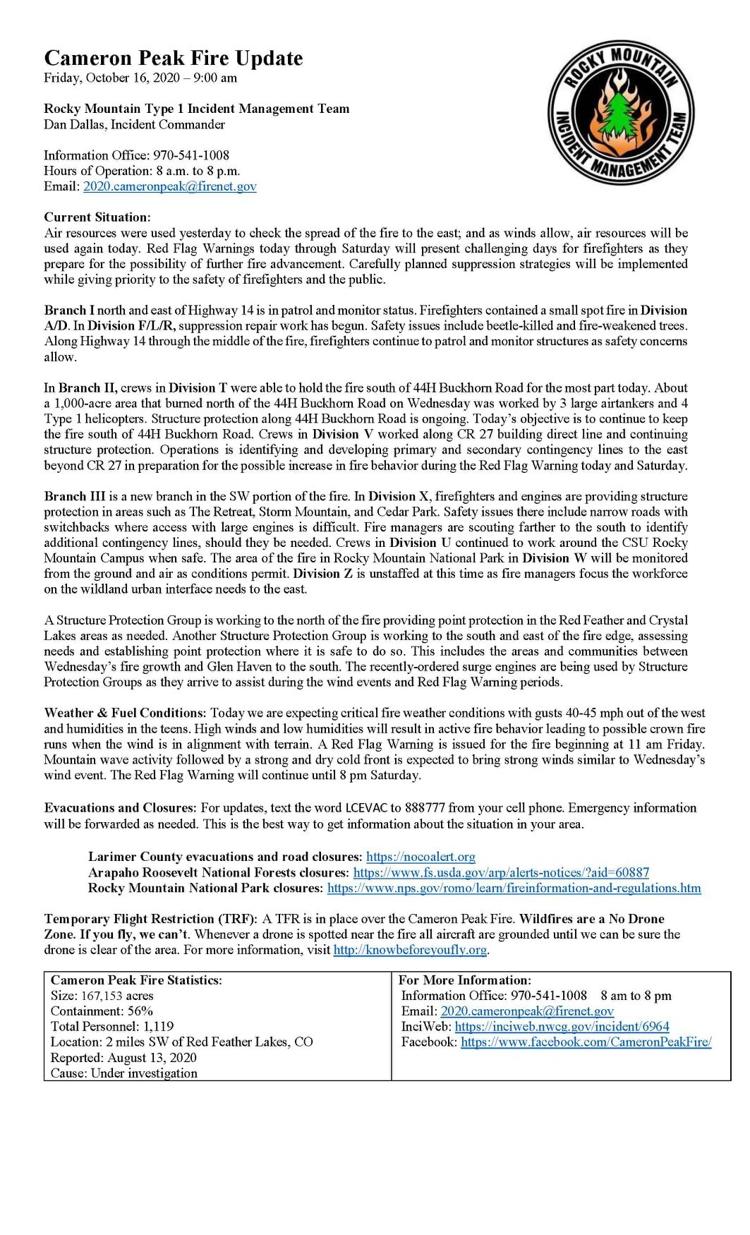 A Structure Protection Group is working to the north of the fire providing point protection in the Red Feather and Crystal Lakes areas as needed. Another Structure Protection Group is working to the south and east of the fires edge, assessing needs and establishing point protection where it is safe to do so. This includes the areas and communities between Wednesday's fire growth and Glen Haven to the south.
The recently-ordered surge engines are being used by Structure Protection Groups as they arrive to assist during the wind events and Red Flag Waining periods.
Weather & Fuel Conditions: Today we are expecting critical fire weather conditions with gusts 40-45 mph out of the west and humidities in the teens. High winds and low humidities will result in active fire behavior leading to possible crown fire runs when the wind is in alignment with terrain.
A Red Flag Warning is issued for the fire beginning at 11 am Friday. Mountain wave activity, followed by a strong and dry cold front, is expected to bring strong winds similar to Wednesday's wind event. The Red Flag Warning will continue until 8 pm Saturday.
Evacuations and Closures: For updates, text the word LCEVAC to 888777 from your cell phone. Emergency information will be forwarded as needed. This is the best way to get information about the situation in your area.