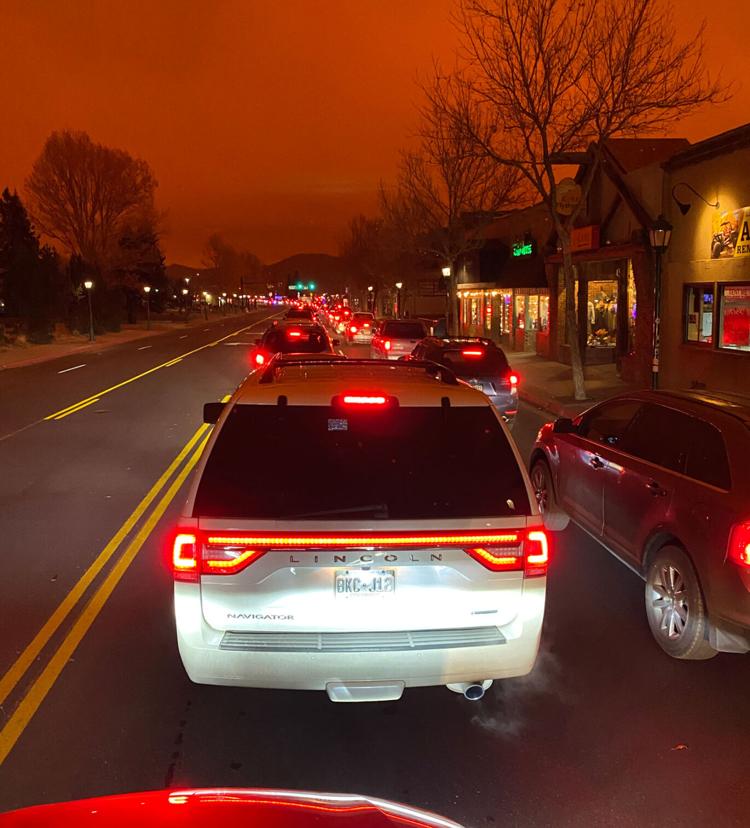 What a trying few weeks it as been for the residents and wildlife of the Estes Valley.
The Cameron Peak fire ignited on August 13 on the Arapaho and Roosevelt National Forests near Cameron Pass and Chambers Lake. After burning for over two months, this became the largest fire in Colorado history as it inched its way towards Glen Haven, eventually causing the Retreat and the town of Glen Haven to be evacuated and residents have been displaced for over two weeks now.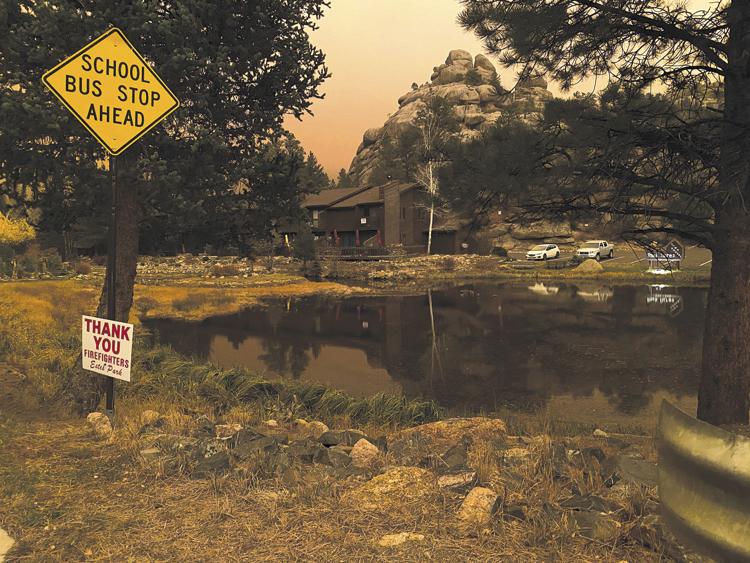 The East Thompson Zone Fire started on October 22 when the East Troublesome Fire spotted across the Continental Divide and became established in Rocky Mountain National Park between the divide and Estes Park. Last Thursday, portions of the Estes Valley came under mandatory evacuations and it became critical to watch official fire information sources to know exactly when our areas were under first voluntary evacuation notice and then, mandatory evacuation notice. Most Estes Park residents evacuated on Thursday as witnessed by the seemingly never-ending lines of traffic trying to flee the town and by Saturday morning, mandatory evacuations were activated so that all residents should have been safely out of town by the time the expected winds might send the fire into our mountain town.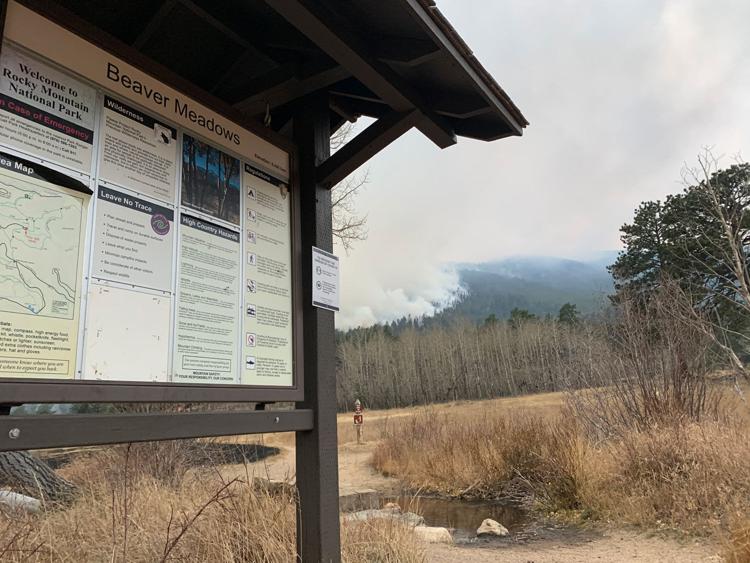 By Sunday morning however, a much anticipated and welcome winter snowstorm brought 15"-20" of snow over both fires. The snow lasted until mid-afternoon on Monday. Inaccessible and hazardous road conditions were a factor early in the week with below zero temperatures allowing fire personnel to assess the effects of the fire and focus their priorities for when they need to resume fire suppression.
The snow has been very effective at slowing things down and preventing fire spread. The biggest challenge mid-week was the cold weather, slick roads, access and not being able to see in the snow, the hazards that exist. It's important to know that the snow was not a fire season ending event, but a fire season slowing event. Fire activity after the snow decreased significantly but now it is anticipated that the fire will become more active as temperatures increase later in the week. Fire officials are trying to estimate how many days before firespread becomes a problem again and what is the next weather event that will bring the fire to a problem status again?
The Pacific Northwest Team 2 assumed command of the Cameron Peak and Thompson Zone of the East Troublesome Fires at 6:00 a.m. on Tuesday, October 27 and tell us it's important to know that we are not out of the woods yet. After the snow melts and the weather warms up and the winds blow the wrong way, the fire will be back. And..it's already close.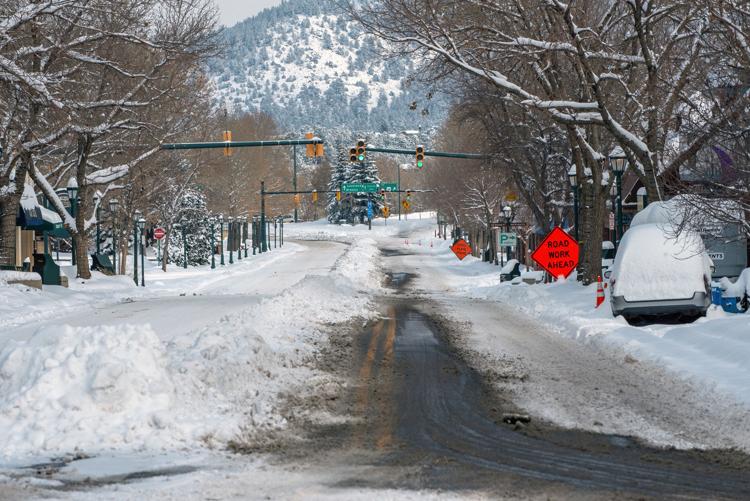 Fire officials said, "We recognize this has been a long and trying time for the local and surrounding communities impacted by these fires and we will continue the aggressive suppression efforts through direct attack when and where it is safe to do so and implement indirect tactics where there is the highest probability of success. We have several objectives, but our highest priority is the safety of our firefighters and the public." It is imperative that we all stay on high alert and heed all warnings and evacuation notices.
Helpful Information:
Emergency alerts (sign up) and evacuation zones map: www.nocoalert.org
Evacuations: for updates, text the word LCEVAC to 888777 from your cell phone for the Cameron Peak Fire and TFIRE to 888777 for the Thompson Zone of the East Troublesome Fire. Emergency information will be forwarded as needed. This is the best way to get information about the situation in your area.
Call the Red Cross at 800-417-0495. Press #1 if you have been evacuated and need shelter. You can also visit http://cowyredcrossblog.org/cpf/ for updates.
Closures: Currently all Rocky Mountain National Park is closed. https://www.nps.gov/romo/learn/fireinformation-and-regulations.html
All National Forest lands on the Canyon Lakes Ranger District are closed. Arapaho and Roosevelt National Forests closures: https://www.fs.usda.gov/arp/alerts-notices/?aid=60887
Larimer County evacuations and road closures: https://nocoalert.org
We had begun to pack our "to-go bags" and gather important papers and other items but when push came to shove, we wondered just what we should really think about packing? We learned that a solid plan and the right supplies would help us feel calm and assured in an emergency, which can go a long way in keeping ourselves comfortable and safe. The following are key action items to gather now so that if evacuation becomes necessary in the future–whether it's the middle of the night or the middle of the day–we know how to get ourselves and our loved ones to safety.
Fire Evacuation Check List
Have at least 1/2 tank of fuel in your vehicle at all times. A flashlight in your vehicle can be very helpful.
Round up your pets: get them secured and ready to go into the car with no way of escape before they are loaded into the car (this is especially important with cats). 
Have pet carriers, leashes, food bowls, food, litter boxes, litter, and other pet needs ready to go & ready for car (store in a secure place so these are easily loaded into the car).
Make a prior arrangement to contact a neighbor or friend who might be available to help you in an evacuation situation with loading or driving a second or third vehicle, or to help with large animals such as horses/ penned animals etc.
Have very important files, back‐up disks, plug‐in USB virtual drive, small compact file box ready to go. Include such things as passports, birth certificates, homeowner's policy, auto policies, life & investment files, bank records, legal documents, licenses, etc.
Computer CPU (hard‐drive most important) if you have no back‐ups.
Photograph albums, photo CDs, etc., ‐ have these ready, packed, stored in a secure place to go immediately into car.
Eyeglasses and an extra pair if you have any, contacts and solution.
Cameras & expensive jewelry or important electronic devices.
Suitcase filled with clothing, socks, underwear, jackets, sweatshirt, warm clothing, boots, extra shoes, etc. Keep this packed ahead. Include a bag of toiletry items, including deodorant, disposable shavers, toothbrushes, toothpaste, lotions, shampoo & shaving cream, etc.
Don't forget your medications, prescription and over the counter.
If you have enough room, consider a few items from your camping or picnic supplies. Pillows and blankets are a good idea.
If time, draft e-mail, send to friends and family about your intentions.
All household & car keys, wallet, handbag, laptop computers cell phones & don't forget to pack your chargers.
Complete phone list or phone address book (snail and e‐mail), including cell phones of neighbors, family.
Special sentimental or valuable items.
Close all windows, close all interior doors. Get out when instructed.