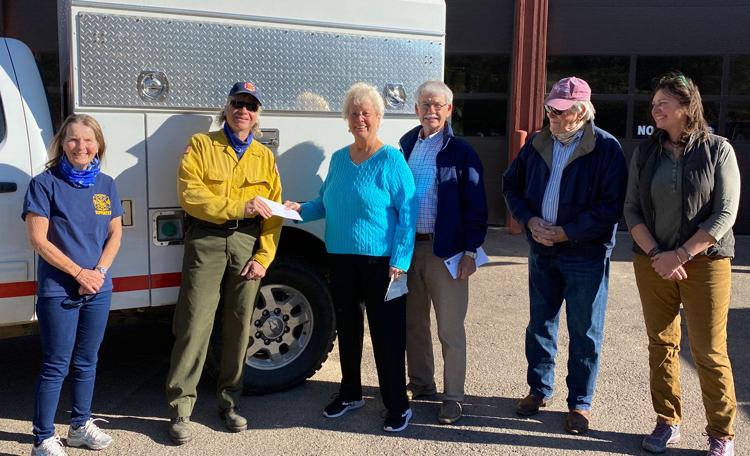 The Glen Haven Area Volunteer Fire Department is a non-profit volunteer fire department serving the community of Glen Haven, Colorado. They, along with other firefighters from Estes Park and around the country, have been very busy fighting the Cameron Peak Fire and the East Troublesome Fire. The department recently lost one of their trucks and a water pump while trying to save homes from the raging Cameron Peak fire. Glen Haven Fire Chief Kevin Zagorda tells us that now that things have calmed down, they've discovered something is wrong with each and every one of their firefighting vehicles.
Eileen Crossant, Glen Haven Volunteer Fire Dept. Board of Directors member said "Our firefighters have been amazing throughout this long fight. All of our firefighters are volunteers who gave up their family life and other things for this fire. They are all so very dedicated!"
Betty Hull, Secretary/Treasurer of the North End Property Owners Association saw the EP News announcement telling of the loss of the fire truck and she brought the issue to her board to see if they wanted to donate to the GHAVFD. The North End Property Owners Association, Inc. (NEPOA) were incorporated in 1972 and presently service approximately 285 property owners extending from the top of the switchbacks to the town line across the north end of the Estes Valley. They offer their members valuable information about wildfire mitigation, noxious weed control and wildlife issues. NEPOA gives annual financial support to the Estes Valley Land Trust, the Estes Land Stewardship (ELSA) and the Glen Haven Volunteer Fire Department and they decided an addition donation to GHAVFD was in order in their time of great need.
Betty Hull told Fire Chief Kevin Zagorda as she gave them their checks, "You and your firefighters did an amazing job protecting us and our entire town! Particularly us North Enders are extremely grateful for all you've done, you've done a heck of a job and we can't tell you how much we appreciate you!"
The GHAVFD currently operates seven pieces of apparatus out of two fire house locations with approximately 24 active volunteers. This is accomplished with a total budget amounting to about what one career firefighter would earn in salary in one year. Funding opportunities are being sought after to help recoup expenses incurred by the fire as well as much needed repairs to their well-used equipment.
The Glen Haven Area Volunteer Fire Department is a critical part of the emergency response community throughout southern Larimer County. The Department works closely with the Colorado State Patrol, Larimer County Sheriff's Department, Larimer County Emergency Services, the U.S. Forest Service, Rocky Mountain National Park, the Estes Valley Fire Protection District, Loveland Rural Fire Protection District, Estes Park Ambulance Service and other agencies to continue to provide emergency response to the Glen Haven community and the entire Estes Valley.
A great big thank you goes out to the "Small but Mighty" Glen Haven Area Volunteer Fire Department! Any other individuals or organizations wishing to donate to the GHAVFD can go to Ghavfd.org to donate and help!