By: Kris Hazelton
This week, two dogs in Estes Park were attacked by a mountain lion. One was severely injured and is recovering and sadly, the second one has died due to its injuries. This article is to serve as a warning to be aware and to give you tips on how to prevent such an attack on you, your family or your pets by these apex predators with which we share our living spaces.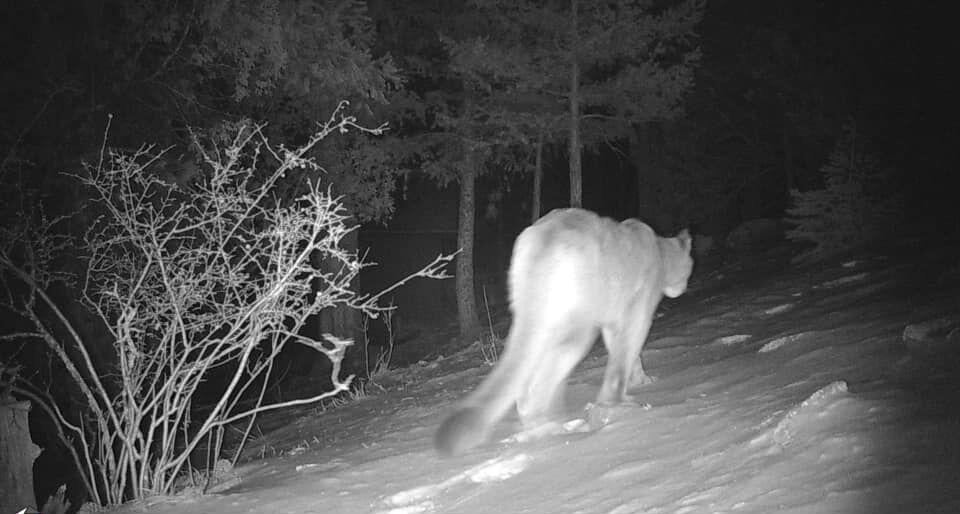 The first attack took place in the early morning hours last Thursday at a home on the ABC streets above the hospital. The dog's owners (who wish to remain anonymous) know there has been mountain lion activity in the area thanks to evidence on their trail camera. They are always cautious, especially in the twilight hours, just after sunset and before sunrise. Before letting their 70 pound boxer dog, Sadie out first thing in the morning the owner shined his powerful flashlight around the yard, searching for any glowing eyes. Seeing none, he opened the door for her to do her business and stood by the doorway waiting for her to come right back in as she does each and every day. Just a few minutes later, he heard a scuffle and some strange noises, followed by his dog yelping loudly. He called to his wife to let her know something was wrong and went out to investigate. He immediately saw the lion with Sadie's head in it's mouth, holding her in a death grip, paws and claws clinging to her sides. The man tried picking up several rocks to defend his dog, only to find they were either too large or frozen to the ground. He then spied a survey stake in the yard which he knew was not at all sturdy, but it was something he could use. He hit the lion on the back and it immediately lifted its head and glared right into the his eyes. He quickly hit the lion once again, this time in the face and the startled lion immediately released Sadie and began to run away.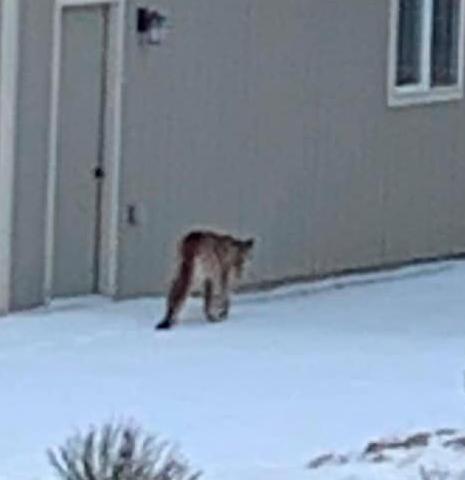 The man said, "I guess the mountain lion decided not to challenge me for his morning breakfast, I fully expected him to survey the situation and then come back for round two but by God's grace, it just kept going away from us. When I replay the events in my mind, I think, what was I doing, out there in the dark, in my bathrobe and slippers, beating a mountain lion off with a flimsy piece of wood! Adrenaline and instincts kicked in and I just had to try to save our dog!"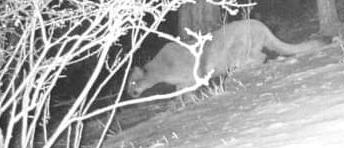 After the lion left, he scooped the severely injured Sadie up and yelled to his wife to call the veterinarian's office. They said to meet them there as soon as possible and according to the couple, "They did a fantastic job saving Sadie's life. It took three hours of surgery and more than 70 stitches to sew up her puncture wounds. Her ears were very chewed up and she lost her right eye. She's now home on antibiotics and pain meds and is sleeping a lot. She has since been back to the vet's office for a re-check and they couldn't be more pleased with her progress."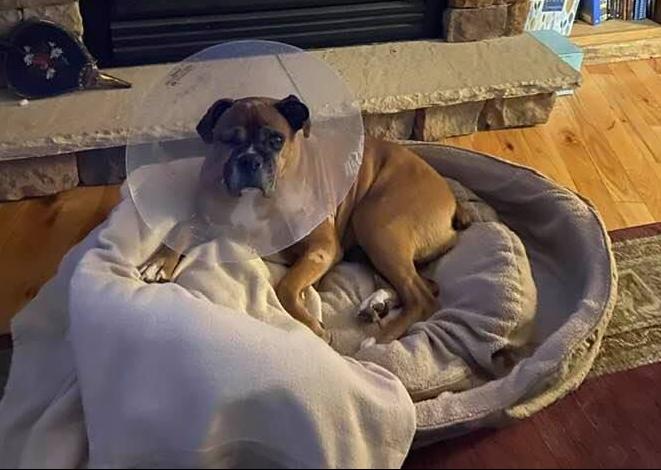 Sadie's dad said, "When I take her outside now, she looks at the spot where the attack happened and I think she remembers it and has bad memories. I haven't gotten a good night's sleep since and she seems very restless as well. It will take a while to get over this traumatic attack. I just know that if I had been even a minute later, the outcome would not have been good."
Sadly, the second dog who was attacked two days later, a schnauzer named Roscoe, had to be euthanized after fighting for its life for several days. The injuries to the dog were just too severe. The dog lived in a home on Eagle Cliff Road, off of Highway 66.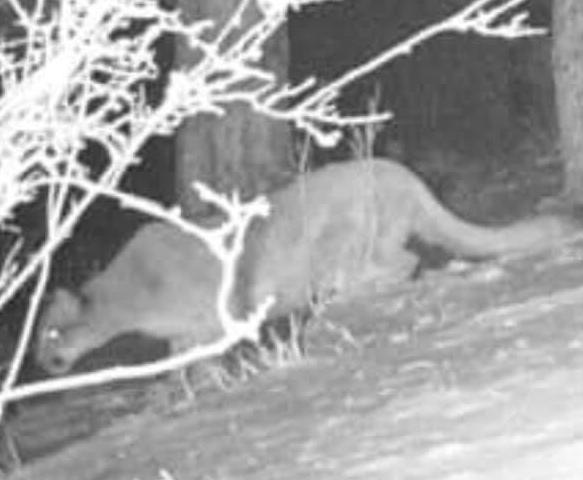 Officials from Colorado Parks and Wildlife have been in town to investigate both attacks and they think it may be a juvenile lion, recently emancipated from its mother, trying to fend for itself and hunt on its own.
While CPW officials were at Sadie's home, several mule deer came near the house and the CPW officer stated that the deer have obviously been fed by people. When wildlife such as deer, elk, wild turkeys, etc. come in to be fed, people fail to realize that this also brings the predators in too close to our homes as well! It is illegal to feed wildlife and this is one of the major reasons why. Everyone needs to obey these laws and never feed the wildlife.
Sadie's dad wanted to stress to everyone to never let your guard down and never lose your sense of respect for the wildlife. He said, "I said to my wife this morning, I thought 2020 ended. I thought the worst was over! Don't be lulled into thinking you're 100% safe from wildlife around your home, in my case, this lion came out of nowhere. Be diligent and careful each and every time you go out."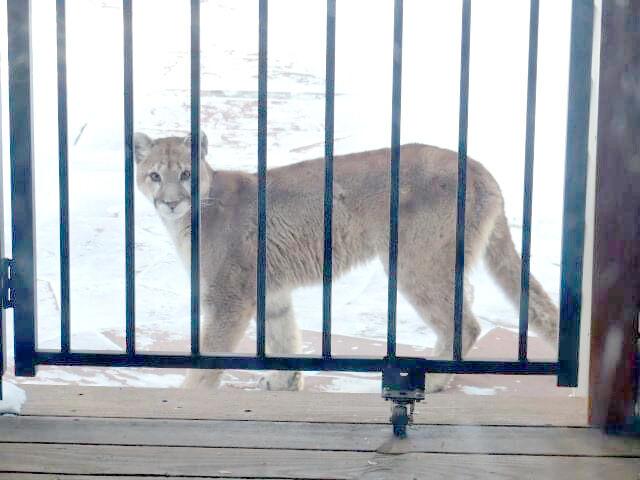 Wildlife managers say if you find yourself near a mountain lion:
Never run away! The lion's instinct is to chase and ultimately catch what they perceive as potential prey.
Never turn your back on a lion. Always face them while making yourself look as large as you can. Yell loudly, but don't scream. A high-pitched scream may mimic the sound of a wounded animal. Slowly back away while maintaining eye contact with the lion.
Keep your children close, hold hands
Safety equipment you may choose to carry could include bear spray, a noise device, like an air-horn, and if you walk in the dark, a very bright flashlight.
If you are attacked, fight back!
Remember to use all of your senses to detect if a mountain lion is near. Using a light to help you see your surroundings is very important, whether it is on trails or in your yard, or as you walk in your neighborhood. If you run or bike for personal fitness, use caution when wearing headphones which take away your ability to hear if a lion, or any other wildlife, is giving you signals that you're too close.
Pet safety
Mountain lions are opportunistic predators. They will often attempt to take prey when it presents itself.
Keep your pets on a leash.
Watch the pets' behavior, since they may sense the lion before you can actually see them. If they seem alert to something, you should be on alert as well.
Look around with a flashlight before going outside.
Please stay out with your dogs when you take them out at night. It only takes a few seconds for them to become prey. If your pet has an outdoor run, put a chain link roof over it, a cat can easily scale any fence and gain entry to the run. Never leave your pets unattended whenever they are outdoors.
Avoid dusk and dawn as well as night time for walking your dog.
Please pass this message along and be diligent in keeping your family and your pets safe.