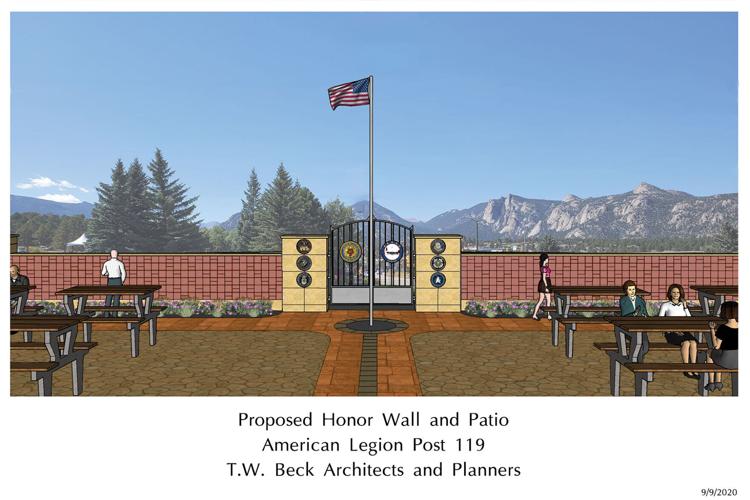 By: Laurie Button
The Circle 119 American Legion Post has a vision—a vision it hopes will recognize the contributions of treasured individuals both past and present. The Estes Valley Wall of Honor has been in the planning stage since the fall of 2019, but after receiving preliminary approval from Town staff last month, the project is now ready to be launched.
When completed, the 100-ft. -plus wall will define the Legion's outdoor patio space currently outlined by white fencing. Constructed of colored concrete or block, the structure will be fully landscaped and will provide enough surface area to install as many as 2,400 commemorative tiles honoring individuals who have unselfishly served—or are serving—our nation or the community. Local architect T. W. Beck and his staff have worked diligently to incorporate all of Circle 119's ideas into the wall's final design. As a member of the Sons of the American Legion, Thomas Beck eagerly accepted the challenge presented to him.
So, who is eligible to be remembered on the wall? The project's team worked very hard to make eligibility requirements as inclusive as possible while retaining the integrity of the wall. The vision is to honor people—past or present—who have exhibited a commitment to sacrifice, service, or support. This will include all Veterans and their families; organizations that support Veterans by their donations, service, sacrifice, or tangible support; First Responders from the Estes Valley and surrounding communities; local government organizations; service and charitable organizations; individuals that can demonstrate a tie to Post 119 or Veterans; and other people who have been inspirational through contributions to their communities and the world we live in. This will be an ongoing project of Circle 119 and once the wall has been built, tiles will be installed in sections as orders are received.
Regarding acceptable graphics, any emblem that meets the vision of the Wall of Honor will be considered for inclusion on purchased tiles, realizing that emblems must meet production design and size limitations. Examples of emblems are included on the application form however, others will be considered (i. e. those of First Responders, government entities, and when available, particular military units).
Tiles are available in either 4"x 8" or 8"x 8" sizes, with or without service emblems. Circle 119 is working with 4EverBricks to produce the tiles. The Pennsylvania company was selected for several reasons, among them the fact that it is well respected, and family owned. There's something reassuring when on occasion it's the company's president that answers the phone when you call. It becomes even more personal when you realize his young grandson is spending the day in the office along with him. But Barry Pasternack's company was selected primarily due to the process it uses in producing the tiles and the work its staff puts into making our project successful. Rather than mechanically routing words on the tiles and then applying paint in the letters that result, 4EverBricks uses a laser technique that permanently burns the inscriptions into the tile's surface.
In an attempt to make these tiles affordable to as many people as possible, they are very reasonably priced:
• 4"x 8" tile—$100. You can add a service emblem (emblems must be approved) for an additional $25.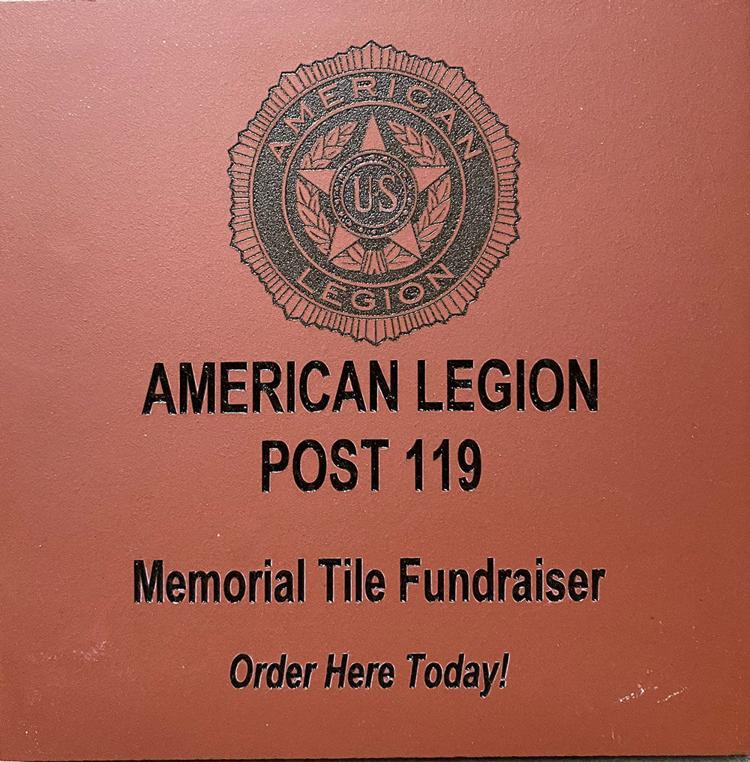 • 8"x 8" tile—$200 (this includes an approved service emblem)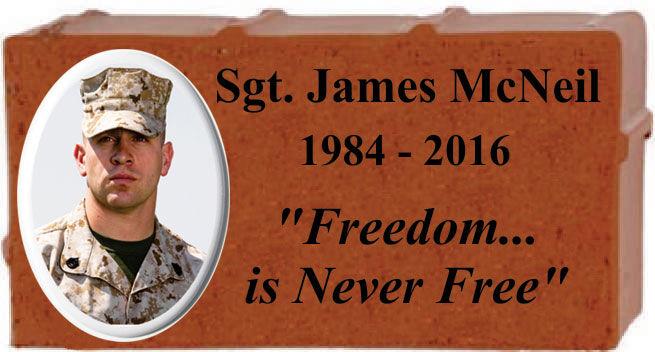 • It is also possible to add a photo of the person you are honoring for an additional $90. The photos will be reproduced in ceramics and guaranteed for life.
It's important to note that while bids for the wall will soon be submitted to local contractors, work on the wall itself cannot begin until we have sold enough tiles to pay for initial construction costs. We are hoping the work can begin this spring. As a result, early purchasers will not see their tiles immediately. For those who are waiting, however, miniature keepsake replica tiles are available from 4EverBricks at an additional cost of $30. There is a place on the application form where they can be ordered.
If you are interested in purchasing tiles, an application form is available at:
4everbricks.com/donors/post119. Payments will be processed through the Legion's PayPal account. To receive an application form by mail or email and for additional information, please email estesvalleywallofhonor@gmail.com.
Another exciting aspect of this project is that we are asking all those who purchase tiles to provide a short paragraph (or more including photos if possible) explaining why they are honoring that particular individual. These stories will be preserved in a searchable database at the Legion for people to explore and reflect upon.
The Estes Valley Wall of Honor is just one facet of the Circle 119 Foundation's Strategic Plan for the future of the American Legion's historic property. This fall Foundation board members have actively participated in meetings with Town officials to be sure proposed plans meet all current codes and development requirements. As funding becomes available, plans include a redesign of the parking lot, drainage improvements, a possible playground area for children, and currently in the works now are new ADA bathrooms for the building. An exciting long-range vision includes development of a space-related museum and educational center named for Estes Park's resident Space Shuttle commander Loren Shriver. The sky's the limit you might say! All of these improvements are based upon Circle 119's commitment to continue to be an important facet for the future of our Veterans and the community.
So, we hope you will join with us in our visions and help build the Estes Valley Wall of Honor. The individuals that will be represented with tiles have provided us with the backbone of our nation and our community. They deserve to be both honored and remembered.