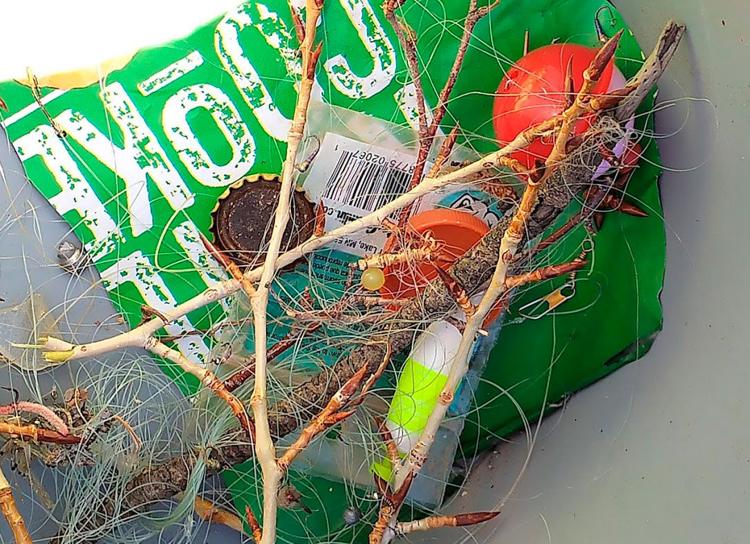 By: Cindy Yeast
While walking at Lake Estes, I saw an interesting sight – a man on a stepladder, which was being held by a woman while he was attempting to pull something from a limb of a tall tree. I walked over to them, and asked if he was a fisherman, thinking he was trying to pull a favorite lure or fly out of the tree. He answered that he was not, but he was a birder and was trying to protect birds by retrieving fishing line from the tree. As I took a closer look, I saw there was fishing line on many of the branches, no doubt because the tree hangs over the Big Thompson, and its branches ensnare the line of fishers.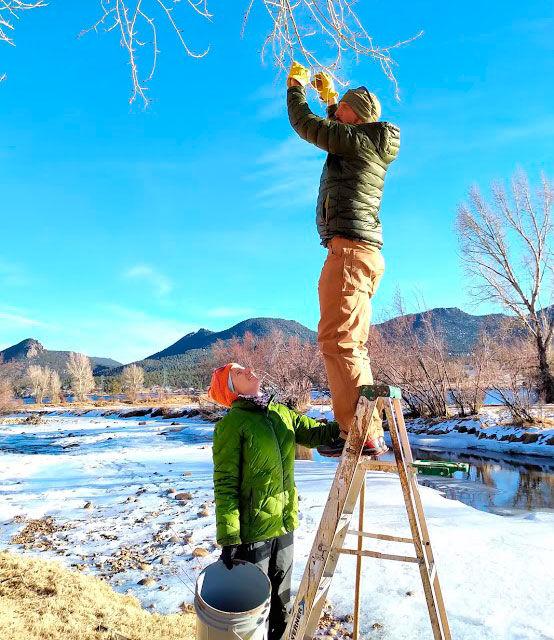 The man, Marc Hemmes, and his wife, Diana Laughlin, had been walking along the shoreline of the river and the lake, picking up fishing line and gear from the ground, as well as pulling it from bushes and trees with floats, hooks, and lures still attached. They had put these items, as well as some trash they found, in a large bucket. Marc explained that he and Diana were inspired to take action after rescuing a crow at the lake that had become entangled in fishing line. They want to do what they can to prevent deaths and injuries to birds from fishing line.
Having also rescued birds that have been entangled in fishing line, I was thankful for their actions, as well as that of others who do what they can to remove fishing line and gear from the area. These efforts can save the lives of some of the thousands of birds that are killed every year in this country due to fishing line. Thank you, Marc & Diana!