By: Dawn Wilson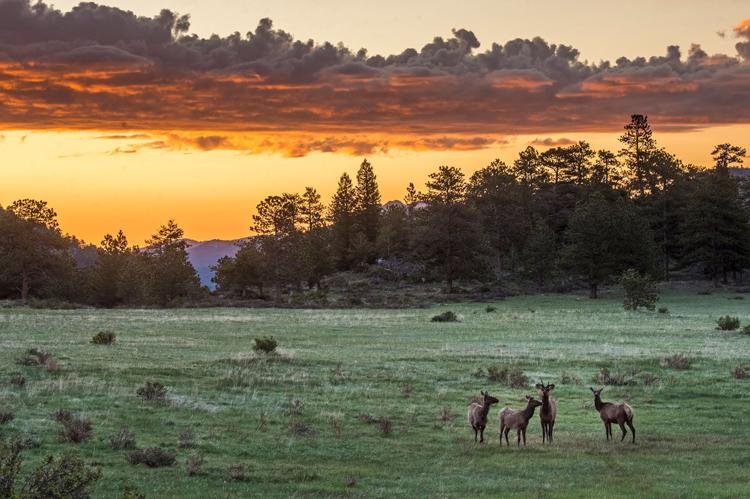 This week's featured animal is not just one animal but rather how to take great photos of an animal in the fall. September is one of the best times of year to photograph wildlife in Rocky Mountain National Park and Estes Park. The fall colors peak this month, several animals are in their energetic rut season and other animals are doing their last push to prepare for the winter. Keep these tips in mind when photographing the local wildlife for wonderful photos for your walls.
1. The elk rut will peak the third and fourth weeks of September. This fun season is when the bull elk work on strutting for the cows and bugle to warn off other suitors. To capture the bugling shot of a bull elk, wait for him to sniff a cow to see if she is in heat. He will bugle immediately following the sniff. Or wait to hear a distant elk bugle; the closer bull will typically respond as a warning to stay away.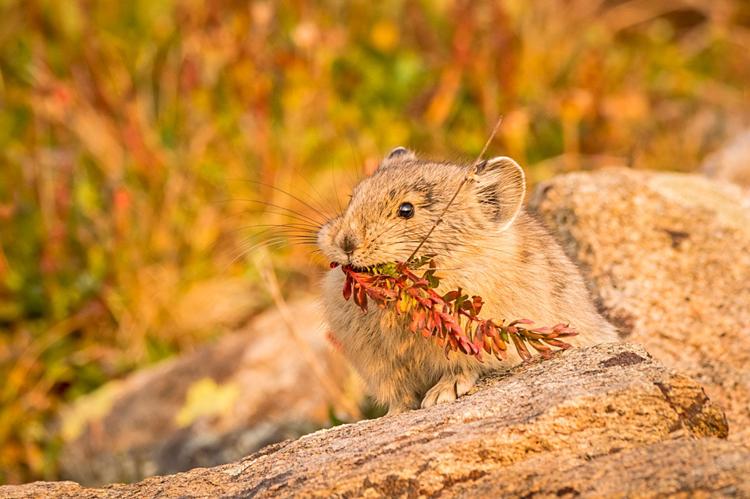 2. This year the meadows in Rocky Mountain National Park are closed from 5 p.m. to 10 a.m. for the protection of the elk during an important season for their survival. If the elk are not close to the road, frame them instead as a focal point in a scenic photo. Within your photo, position the elk in the lower left or right third and then fill the remaining portion of the frame with the colorful trees and high peaks.
3. In September, pikas are in their last push to build up their hay piles for winter in their harsh tundra environment. Watch them for a few minutes. They will have favorite patches where they gather plants and then, as they run back to their cache piles, will have a favorite rock to stop on and check for danger before proceeding. Photograph them on this rock rather than trying to chase them around with your camera.
4. The fall colors are beautiful along the Bear Lake Road corridor the third and fourth weeks of September. Frame your photos with boulders covered in colorful lichen at the base of aspen trees to create a true Rocky Mountain autumn scene. The boulder will help ground your photo while the vertical tree trunks will bring movement into the shot.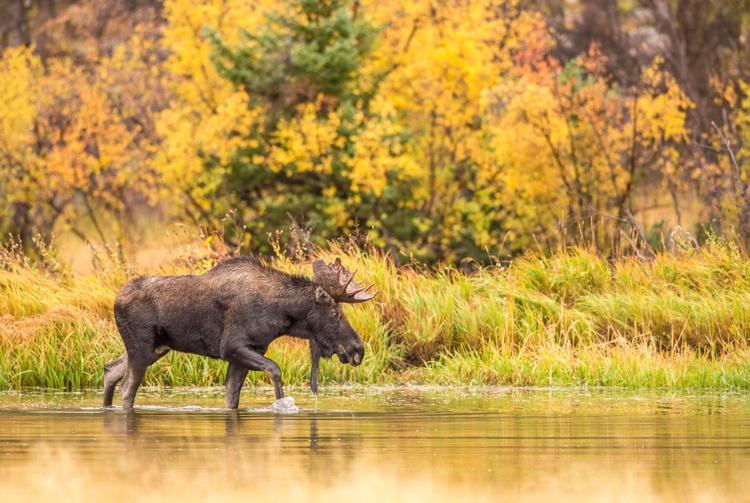 5. Although a little harder to find, moose are also in their rut or mating season in September. They do not like the noise of the more animated elk in the meadows so look for them near alpine lakes where cow moose may be found. Frame the moose against colorful fall foliage for a dynamic environmental portrait of autumn in Rocky rather than chasing them around for frame-filling portraits.
Dawn Wilson is a professional and award-winning nature photographer who lives in Estes Park year-round. You can see more of her work, join one of her Rocky tours and purchase prints at DawnWilsonPhotography.com.