Get The App-Save A Life

When a cardiac emergency strikes, finding an Automated External Defibrillator (AED) can help save a life. But that takes knowing where AEDs are located. That is where the new phone app, PulsePoint can help.
David Wolf, Fire Chief of the Estes Valley Fire Protection District tells us,
"We have just rolled out our participation in the PulsePoint app. Poudre Fire Authority (Fort Collins) initiated this in Larimer County a couple years ago, and through partnerships with PFA and LETA (Larimer Emergency Telephone Authority - 911), we were able to add this service in Estes for free!"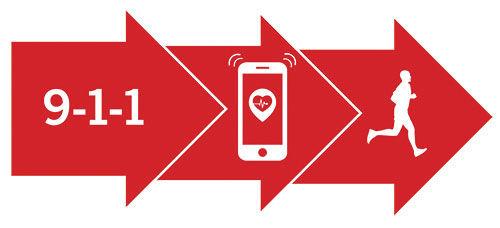 PulsePoint AED lets you report and update AED locations so that emergency responders, including nearby citizens trained in CPR and off-duty professionals such as firefighters, police officers and nurses, can find an AED close to them when a cardiac emergency occurs. Sudden cardiac arrest is the leading cause of death among adults over the age of 40 in the United States. That's one reason Estes Valley Fire has joined with Poudre Fire Authority, Larimer Emergency Telephone Authority, and others to bring PulsePoint to our community. PulsePoint is a free smartphone app that's designed to save lives.
When someone suffers a cardiac emergency in a public place, PulsePoint alerts those nearby who are trained and willing to help. Registered users of the app are immediately alerted to the location of the victim as well as the nearest Automatic External Defibrillator (AED) to use in reviving the person. That quick response could save a life. EVFPD urges you to get CPR training, download the PulsePoint app, and make a difference.
Where can I get CPR certified?
Estes Park Health offers monthly CPR classes. Check their schedule and register here:
eph.org/events/category/cpr-classes/list/
Help us build the database of AEDs
In order for civilian responders to be notified of AEDs in the community, we need to know where they are. With our recent roll out of PulsePoint, trained community members can be alerted of a sudden cardiac arrest and respond immediately. The app can also alert them of nearby AEDs, but only if we know about them. There are two options for you to help:
1. Email the Fire District at info@estesvalleyfire.org and tell us the AED location, ideally including a photo.
2. Use the PulsePoint AED app. See the video at the EVFPD website at www.estesvalleyfire.org on how to log an AED on your own.
Follow the link to learn about how to report AED locations for entry into the app. You can also report them directly to EVFPD at info@estesvalleyfire.org.
You can learn more about PulsePoint and its benefits in the Estes Valley here: www.estesvalleyfire.org/pulsepoint