In 2019, the Rocky Mountain Conservancy – Conservation Corps joined in celebrating 25 Years of National Service alongside other AmeriCorps programs nationwide. Twenty-five years ago, the Corporation for National and Community Service (CNCS) was formed to administer AmeriCorps and other service programs across the country. The Conservation Corps is an AmeriCorps program providing members with job training and educational services, while supporting environmental stewardship outcomes through on-the-ground conservation work with the National Park Service and U.S. Forest Service.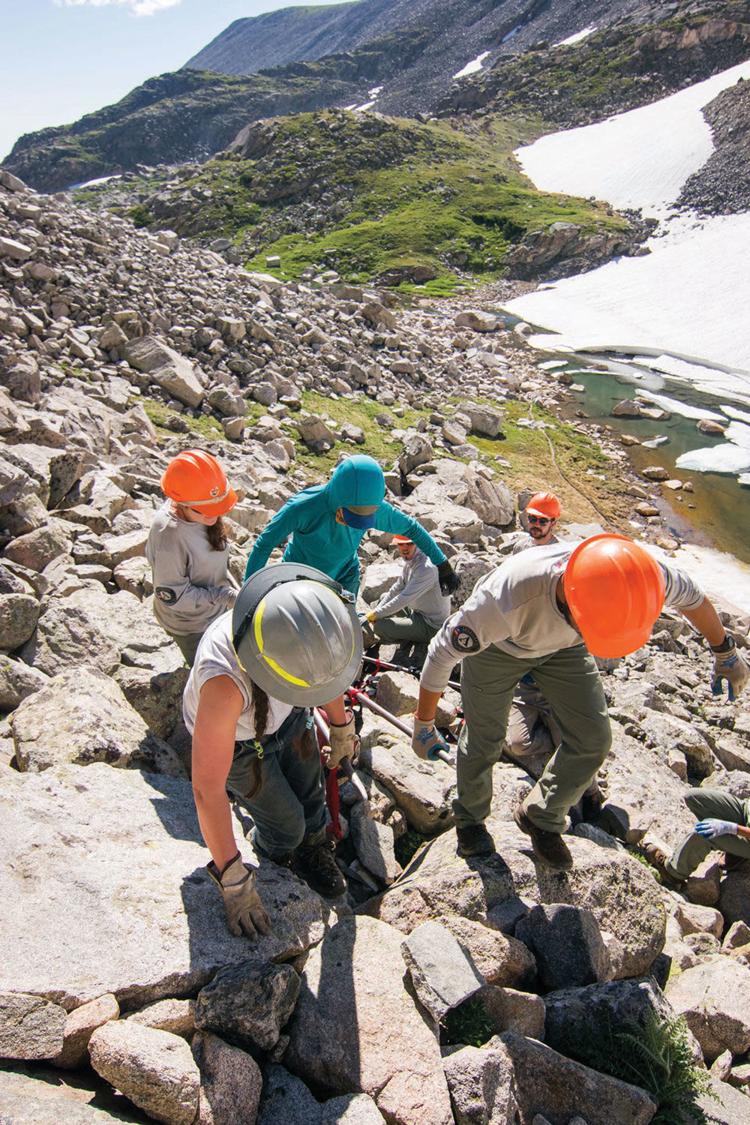 Throughout the 2019 season, the Rocky Mountain Conservancy-Conservation Corps crews exemplified the AmeriCorps mantra to "Get Things Done" through their conservation service work in public lands. The Conservation Corps supported five crews hosting a total of 34 AmeriCorps members. Each crew ranged from six to ten AmeriCorps members with one-two members serving as a crew leader.
These crews served in Rocky Mountain National Park and the surrounding Arapaho-Roosevelt National Forests. Crews completed trail maintenance and restoration, vegetation management, campground improvements, and historic preservation. Within Rocky Mountain National Park, crews maintained more than 50 miles of trail, helped construct a bog bridge through a marshy area above Jewel Lake, managed 39 acres for invasive species, fortified five campsites to prevent erosion, restored facilities at Moraine Park Campground, and helped preserve several historic structures.
Beyond Rocky Mountain National Park's boundaries, three crews helped to maintain 80 miles of trail, rebuild the Young Gulch Trail, construct a wilderness bridge along the Cascade Creek Trail, build check steps below Isabelle Glacier, and much more! All of this work helps to improve trail corridors, stabilize trail surfaces, protect surrounding ecosystems, and ensure a safe and enjoyable visitor experience!
Throughout their on-the-ground service, AmeriCorps members received on-the-ground job training from conservation professionals, developed leadership skills through mentorship opportunities, gained an understanding of public land management by attending field classes, and improved their resumes through workshop sessions. Additionally, members received the Segal AmeriCorps Education Award upon successful completion of their service term to support future educational expenses.
To learn more about the Rocky Mountain Conservancy, please visit