The Estes Park Jazz Festival has become one of Colorado's premier jazz festivals, noted for it's commitment to excellence in jazz. Presenting the finest of our national and regional jazz artists, the festival features stellar line-ups of performers, representing the music from it's New Orleans roots to it's thriving and diverse present, and venturing into it's exciting future.
The annual festival presents seven jazz groups over two days; and takes place on the first weekend in June, from Noon to 5 p.m., at Performance Park. Performance Park is Estes Park's beautiful outdoor performance venue; located at 417 West Elkhorn Avenue, at the west end of downtown Estes Park, Colorado.
The Jazz Festival was founded by, and is directed by jazz artist, Max Wagner.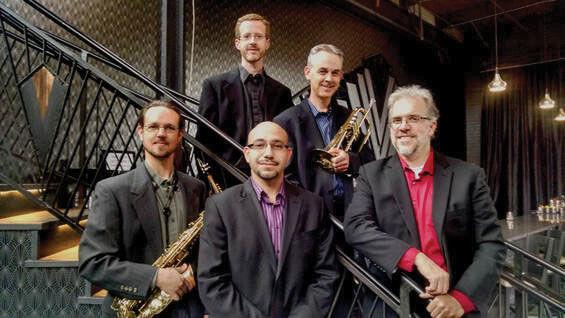 Saturday, June 1st
Performance Park
Estes Park Jazz Big Band Noon to 12:50 p.m.
The Estes Park Jazz Big Band, directed by Chuck Varilek, is made up of talented musicians from Estes Park and surrounding communities. The band features music from the Big Band Era with the swinging sounds of Duke Ellington, Les Brown, Benny Goodman, Tommy Dorsey, Glenn Miller and Count Basie; as well as newer arrangements for big band.
The Bud Powell Project 1:10 to 2:10 p.m.
The Bud Powell Project came together in an effort to honor the music and legacy of one of jazz music's finest pianists. Bud Powell studied with Thelonious Monk and went on to record and perform with the leading players of the bebop era, including Dizzy Gillespie, Charlie Parker, Sonny Rollins, Max Roach and more. He embraced all of the elements that bebop brought to the jazz world of the 1940s and '50s: complex melodies, an expanded harmonic language, and an edgy rhythmic verve, often at breakneck speeds. He influenced many of the jazz greats who followed. He was also a great composer and penned some of the finest tunes to come out of the bebop years. The Bud Powell Project, comprised of five of Denver top call jazz players: Tom Gershwin -trumpet, Keith Oxman -saxophone, Alejandro Castano -drums, Patrick McDevitt -bass, and leader Stu MacAskie -piano organized to dig into Powell's compositions and legacy.
Purnell Steen and Le Jazz Machine 2:30 to 3:30 p.m.
Purnell Steen and Le Jazz Machine play a brand of jazz characterized by red-hot swing and boundless joie de vivre. Their style, developed between the 1920s and 1950s in Denver's Five Points neighborhood is known as the Five Points Sound. Imagine Count Basie's swing combined with Duke Ellington's "Love You Madly" charm, topped off with a dollop of wild west spirit, and that's Purnell Steen and the Le Jazz Machine.
Moderno Afro Cubano Quintet 3:50 to 5:00 p.m.
Moderno brings some of Colorado's best Latin jazz musicians together in a dynamic quintet. The group plays music based on many Afro-Cuban traditions - music of Cuba, Brazil, Puerto Rico, and others, and the ways that they have blended and cross inspired with jazz. Afro-Caribbean rhythms give the music its pulse, on everything from traditional dances to jazz-influenced beats to funk grooves. The horns lay down a variety of colors from red hot to cool and bluesy. This group's outstanding soloists stretch their imaginations to give listeners a unique experience in each show.
The jazz continues Saturday night at Mama Rose's Italian Restaurant, 338 East Elkhorn Ave.
Max Wagner Quartet 6:30 to 9:30 p.m. Saxophonist, Max Wagner, has long been delighting jazz audiences with his exceptional artistry. He is well known for his vibrantly lyrical saxophone playing, seamless command of many jazz styles, and his great warmth and humor. He has received notice in Downbeat magazine, been described by the Denver Post as "a powerful and innovative soloist, by Westword as "Denver's candidate for the 'Alto Madness' award" and in the Coloradoan as a "world class jazz artist." His latest release, new this May, is "Night Song," on the Appaloosa Jazz Records label. The album features his original, "Welton After Dark," and his original takes on some well-loved standards performed with a world-class rhythm sections. Joining him onstage is a well-known cast of stellar musicians who are all showcased on his new album: Eric Gunnison on piano, Ken Walker on bass, and Todd Reid at the drums. Each is a band leader in his own right and they come together to make up the Max Wagner Quartet.
Sunday, June 2nd
Performance Park
Max Wagner Quartet Noon to 1:10 p.m. See previous description of the band.
René Marie and the H2 Big Band-1:40 to 3:10 p.m.
In a career spanning eleven albums and countless performances, vocalist René Marie has established herself as a world class jazz artist. Guided by powerful life lessons and rooted in the jazz traditions laid down by Ella Fitzgerald, Dina Washington, and other jazz giants, Miss Marie has incorporated many musical elements into her captivating and original style; a style that both inspires her audiences and affirms the power of the human spirit. René is reunited for this performance with the H2 Big Band, with whom she recorded their widely celebrated 2015 release, "It Could Happen." Her latest album is the Grammy-nominated "Sound of Red" on the Motéma label.
The dynamic H2 Big Band is a Denver-based collaboration between trumpeter Al Hood and pianist/composer Dave Hanson. World-class soloists and ensemble players fill the ranks of this sizzling outfit including veterans from the bands of Maynard Ferguson, Buddy Rich, Toshiko Akiyoshi, Ray Charles, Phil Collins, Woody Herman, Artie Shaw and many others. The band has two critically-acclaimed recordings to its credit - the 2011 release "Your It!" featuring the great Bobby Shew, and the 2015 release "It Could Happen," featuring vocalist René Marie and a cast of Los Angeles studio luminaries on the Seattle Origin label. The H2 is a dynamite big band for all who enjoy and appreciate the pulsating sounds of contemporary big bands.
Lionel Young Band 3:40 to 5:00 p.m.
Lionel Young holds the distinction of being the only person to win the International Blues Challenge twice, once in 2008 in the solo/duo division, and again in 2011 in the band division. He's played with a who's who at the top of the music industry: Count Basie, Stevie Wonder, Jimmy Paige, Robert Plant, James Taylor, Living Color, Los Lobos, and in the blues world with Homesick James, Clarence Gatemouth Brown, Elvin Bishop, Kenny Neal, Tab Benoit, Johnny Long, and Otis Taylor among others. He's played all over the world including the Montreux Jazz Festival, the 1988 Olympics, and the Legendary Blues Cruise.
Admission is $10 for Saturday, June 1st or $10 for Sunday, June 2nd or get a two day pass for only $15. ​Kids tickets are free (12 & under). No pre-sale - all tickets sold at the door.
For more information, please contact the Event Center at 970-586-6104.