Four decades after a hardy band of runners braved the inaugural Frost Giant in 10 degree temperatures and 18 inches of show, the legendary race will celebrate its 40th anniversary next month with a return to its historic back-country courses and a fundraiser for a local runner in need.
"We came up with this race as an incentive to keep people motivated to stay fit in the middle of winter, and all these years later it's still doing that," said Rick Zuba, who co-founded the race in 1980 with late mountaineer and ultra-runner Chip Salaun. "It's a challenging and unique course unlike any other out there, and it's an Estes Park tradition. The 40th is going to be another great year."
A combination of road and trail, the courses begin at elevation 7,522 in downtown Estes Park and gently climb to the foot of the towering rock formations of Lumpy Ridge, before heading off-road on single-track trails with sweeping views of Rocky Mountain National Park. Runners also navigate a series of switchbacks through the historic MacGregor Ranch, where they've run alongside horses and cows in year's past and inevitably have to dodge a few cow patties.
In the early years, howling winds and snowdrifts were common race day obstacles, prompting organizers to adopt the motto "We run whatever the weather." More recently, sun, blue skies and 50s and 60s have prevailed. Runners from across the Front Range attend, many testing their mettle by tackling both races.
This year, proceeds will go to benefit Chase Murray, a 15-year-old Estes Park High School Cross Country Team runner who was diagnosed in August with acute lymphoblastic leukemia.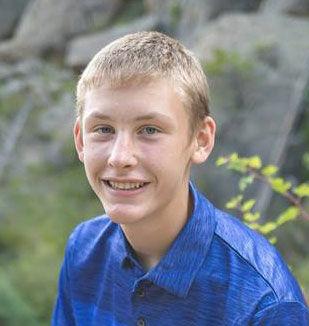 "We'd love to see as many young runners as possible come out to enjoy this great tradition and show support for their classmate," said co race-director Todd Plummer, noting that runners 18 and under can register for $10 ($15 on race day).
A group of local runners - many of whom ran the first race - came together this year to be sure the 40th is celebrated in style. The race will also return to its traditional time and date: 11 a.m. for the 5K and Noon for the 10k the Sunday before Super Bowl Sunday.
"That was also by design," said Zuba, who has fired the starting gun and run the 5k every year but one (he broke his leg that year.) "We figured if you can't watch football, you might as well be out running."
Thanks to Estes Park Running Club, the Town of Estes Park, Med X, MacGregor Ranch and Outdoor World for supporting this race.
To register, go to www.athlinks.com/event/2019-frost-giant-5k-10k-302446 or find us on Facebook. Interested in sponsoring or volunteering? Email Frostgiantrace@gmail.com.