To celebrate the annual elk breeding season (the "rut") and teach everyone about these spectacular animals, the Town of Estes Park presents its annual Elk Fest Saturday and Sunday, Sept. 28 and 29. This event is free and takes place downtown in picturesque Bond Park, 170 MacGregor Ave.
Activities include the very entertaining bugling contests, elk exhibits, elk-inspired arts and crafts, a children's area with elk-themed activities, a craft beer garden, and Native American music, dancing and storytelling. Country band Avenhart will play Saturday afternoon, and blues singer Cass Clayon performs Sunday afternoon. Vendors will display artwork, handmade elk-ivory and antler jewelry, and offer distinctive elk cuisine such as sausages and jerky. Food trucks and other vendors are lined up to provide delicious meals, snacks, and treats.
Visit the Educational Seminar Tent to learn more about elk and wildlife in Estes Park from a variety of professionals. Colorado Parks and Wildlife will provide an Elk Camp where you can learn about "everything elk." Mile High Note Game Calls will teach everyone how to bugle like a bull elk. The Rocky Mountain Raptor Program will show off some of their magnificent rescued birds. After visiting Elk Fest, and armed with new safe and respectful elk-viewing tips, head to Rocky Mountain National Park to observe wild elk in the midst of their mating season antics.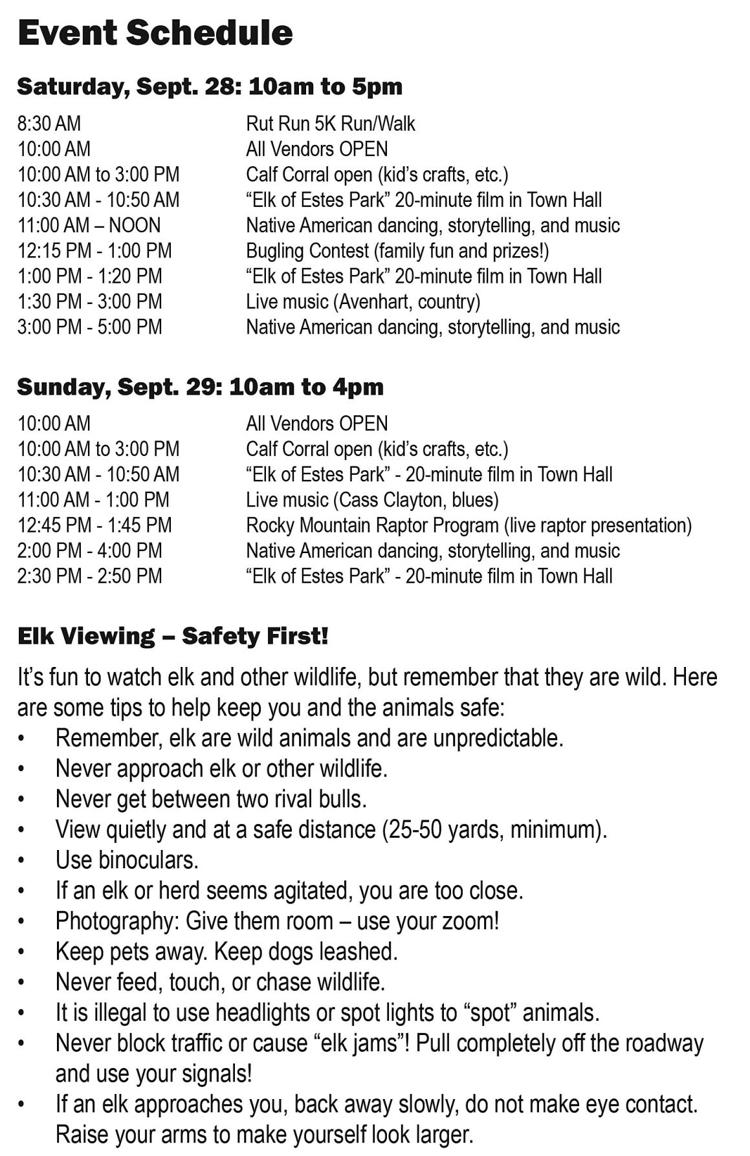 The 2019 Elk Fest line-up includes:
• 55+ vendors presenting their handmade crafts, elk-related items, fine art, and food
• "Elk of Estes Park" a 20-minute film, showing twice daily
• Bugling contest for adults and youth
• A craft beer garden (the "Wallowing Hole")
• Native American dancers, storytellers, and musicians
• Live raptor presentations with the Rocky Mountain Raptor Program
• Kid's Corral with elk related activities and crafts
• Live music from Avenhart and Cass Clayton
More information is available at www.epelkfest.com. Learn about parking options, including the Estes Parking App at estes.org/parking.