The predicted clouds moved in, thunder rumbled from all sides of town and then the rains came...not one of those quick Estes showers, but last Sunday's rain was a downpour. Forecast said that it would clear & then return...right on Performance Park, during the hours of the long-awaited concert. It's so easy to slip into worry! But then the clouds scurried on their way; leaving blue skies in their wake. The sun popped in to say hello and decided to stick around awhile and take in some of the happy people and the music that was gracing this unpredicted sunny, summer Sunday afternoon at Performance Park . . .
The free Gypsy Jazz Concert of Gonzalo Bergara and the Aaron Walker Quartet was a "sold out show" . . . if there had been tickets, that is. It was a packed house, and the people – mostly locals - gathered on the grass, under the trees, under the big canopy, and even on the steps to listen to these virtuoso musicians who came to entertain Estes Park.
We are Erika Metzler and Greg Miles of M & M Productions. In the past, most of our shows have been successful through ticket sales at a local venue. However, this one, our 5th show, was completely paid for by generous local sponsors, thus we were able to make it free to the public. The public showed it's approval. We talked with the audience about the recent loss in our town of David Hocker – and talked about the spirit of community and how we all help each other out. We sent a single bucket out through the crowd and let it find it's way back to us, loaded with support for David's family. On Monday, we delivered $738.04 plus a candy wrapper to the family. Everything that was in the bucket. What an honor to present the love that the crowd poured out for this family. We live in a very generous community that steps up for one another. David's wife was tearfully blown away at the love gift & thanks each one who gave so generously.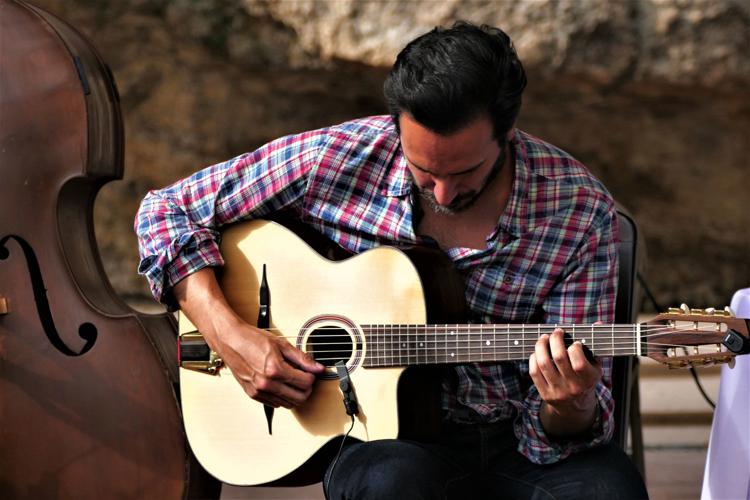 The two hour show started at 5; and the musicians, joined by phenomenal vocalist Laura Iyengar of Los Angeles, played til an intermission at 6. They came back and played another set until 7 p.m. to a very captivated audience; the musicians played their final piece-- but were demanded back by an uproarious standing ovation. Individuals, families, dogs, children, folks passing by...all seemed to enjoy the beautiful afternoon - as was evidenced by beverages being sold out in the last ½ hour of the show – as well as the delicious Latin-inspired menu at Roaming Rations Food Truck.
The crowd was delightfully enthralled with the entire evening, even though the forecast predicted differently. It was truly magical!
We would like to, once again, abundantly thank all of the generous sponsors who made this tremendous experience possible; Greg Rosener & Cydney Springer at SkyRun Vacation Rentals;
Shawn Thompson at Vino Giu; Melissa Strong & John Witmer at Bird & Jim; Christian Newendorp & Maha Deva Jaya of Avant Garde Aleworks; Nick Smith of Lumpy Ridge Brewing Co; Erik Stensland of Images of RMNP; all of the groovy people of the Estes Arts District; Tom Thomas of First Colorado Realty; Meghan Radamacher of The Enchanted Florist; Dinesh, Ramesh & Mahesh Shakya of Cafe de Pho Thai; Bob and Carole Fixter of Fall River Jewelry & Antiques; Eric & Candice Mohr of Snowy Peaks Winery; Matt & Cristie Rambeaux of Rambo's Longhorn Liquor Mart; Sean Jurgens of Quality Inn; Jason & Joanne Miller of The Rustic Acre and Aaron at Estes Park Rent All.
And last, but certainly not least, we want to thank Gary & Kris Hazelton for their absolutely thorough & incredibly fun coverage of our events, past & present, that truly make our concerts wildly successful. We could not do this without you two. Big love to two wonderful people!
Be on the lookout for our next production, hopefully coming in the fall~EPNews will certainly be covering it for us.
Photos by Steve LaMont