All of us in Estes Park have witnessed people getting dangerously close to elk or bears. Some of us have even seen the unfortunate aftermath of such proximity.
Members of the Wandering Wildlife Society (WWS) recently met with Captain Eric Rose of the Estes Park Police Department and Officer Chase Rylands of Colorado Parks & Wildlife to discuss how we can help protect our wildlife in Estes Valley. That is the mission of the Wandering Wildlife Society--to protect the wildlife and habitat of Estes Valley.
The police acknowledged that their forces, even with the Police Auxiliary, are stretched thin during the tourist season when approximately 23,000 people visit Estes per day. On off-season weekends the number drops to about 14,000 per day. With those numbers, there is still plenty of opportunity for things to go wrong between people and wildlife.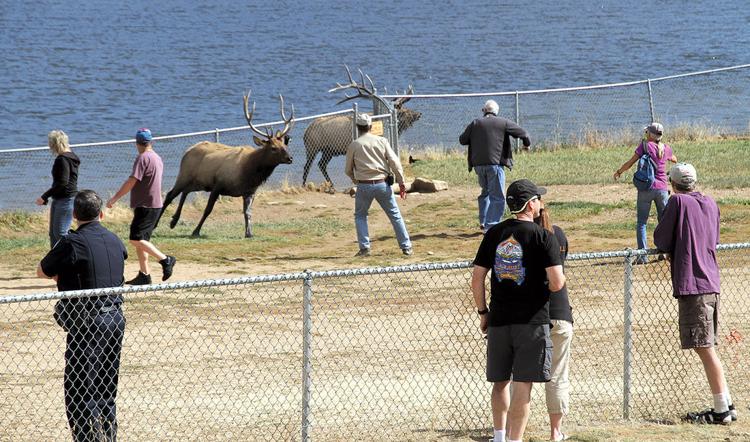 The Estes Park Police Department has been proactive in taking measures to educate the public. Wildlife harassment ordinances modeled on Durango and Aspen are on the books here in Estes. But along with the department's public service announcements, brochures, and traffic management signs, some people still seem unaware of the dangers.
The Wandering Wildlife Society has offered to help. The EP Police Department and Colorado Parks & Wildlife think our group can be of service in several ways. Our growing cadre of volunteers can be trained as wildlife "babysitters," people in official garb who keep a safe distance between people and wildlife. Our monthly Wildlife Talks focus on issues that affect wildlife and their habitat, especially during sensitive periods like the fall rut and spring calving seasons.
We would like your thoughts on this issue. Please send us your ideas to www.evwatershed.org After receiving your input, we plan to meet again with our public servants to discuss specific proposals for volunteer assistance and additional educational efforts and signage.
If you would like to consider joining the Wandering Wildlife Society, please visit our website at www.wanderingwildlifesociety.org.